Description
The Daily Sparkle is a NAPA Recognised Supplier and this course constitutes 4 CPD Hours.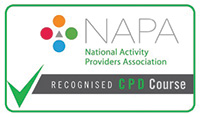 ---
INTRODUCTION
As people age, they usually experience multiple losses which make them vulnerable to grief in ways they may not even recognise. In this course, we discuss grief from four viewpoints:
The view of the person with a chronic illness.
The view of the person with dementia.
The view of the carer of a person with a chronic illness.
The view of the carer of a person with dementia.
We then provide suggestions on how to build stronger relationships with residents and the families of residents by increasing your understanding of what they are experiencing. While appropriate for all carers, this course is especially useful for activity staff.
Download a free sample of the Course Materials
This course involves downloading and studying the PDF Course Material and then, when ready, answering a range of questions online. Upon successful completion of these questions you will receive a downloadable certificate.
---
Group Enrolment
You can enrol several members of staff at your home individually (each individual would have to pay and enrol separately) but you can also create a Group, allocate a Group Leader and then he/she can place the order online for multiple users and they would be the main contact for your Group.
Please check the 'Group' option to enable you to enrol and pay for multiple users. If buying access to more than one course you must choose a different 'Group Name' for each course. On completion of payment you will be allocated the number of course places based on your quantity purchased. As Group Leader you will then be able to manage your Group(s), add users etc via the Groups Dashboard and staff will receive login details to undertake the course.

---
Information and Support
info@dailysparkle.co.uk
0800 228 9698